It's true: my younger friends are all having babies.
And I couldn't be happier about it. Even if it makes me feel like an old Auntie.
I love love love that all y'all younger friends are having babies.
I know a lot of running ladies through social media and it's been fun watching their training, their races, and their lives play out. I've cheered the engagements and the weddings and waited quietly to see what might happen next.
YOU may not have been thinking first comes love, then comes marriage, then comes the baby in the baby carriage— but I sure was.
Side note: I know many families are choosing not to have children, and I don't want to sound like there's anything wrong with that choice. I fully respect that and understand there are many reasons that getting pregnant or adopting a child may not be your future. Families come in all forms! But if you are ever on the fence, and need a nudge over…?
BABIES! BABIES FOR EVERYONE!
Yes, I'm a baby pusher. I'll admit it.
As I move out of the "baby stage" (holla!) and into the "my kids can be left home alone together without killing anyone" stage, I find myself a bit wistful. Also a bit shocked at times, I have to admit.
But just a bit.
The friends who know me from my previous life as the baby pusher remind me that I was the one who thought all this was a good idea. Particularly on those days when I want to tear my hair out with the teens and tweens and chaos of life.
Back in the day it usually went something like this:
"Should we have another kid?"
YES. YES. YES. YES. YES. (clapping and jumping up and down were often involved)
"Is the time right?"
ABSOLUTELY.
"What if my kid gets mad at me for having another one?"
THEY WON'T. THEY WILL LOVE YOU FOR GIVING THEM A FOREVER PLAYMATE.
I had an answer in the positive for everyone when it came to the question: should I have a(nother) baby. And let's be fair- I walked the walk.
Five kids in 10 years is pretty solid baby making. 😉
But now those days are over (YAY! and awwww, mannnnnn….).
Um, how will I get my baby fix now?
God bless the internet and Al Gore. All the baby with none of the poop and puke and sleepless nights.
New Mommy friends on social media to my rescue!
I will ooooh and awwwweee and heart every last baby picture you post on Instagram.
Liking and loving every Facebook picture and cute status update will be my new job.
Tweet me those sweet cheeks and funny faces. I will even forgive Snapchat filters on Facebook or Insta because YOUR BABY ROCKS THE PUPPY DOG LOOK.
I'm?up for the task.
I'll also be up when you are (because I don't sleep, gah!) and I'll shoot you straight if you have any questions.
But I also won't be the busybody telling you "you're doing it wrong." Cross my heart!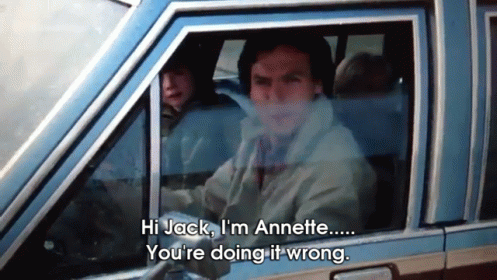 A few things I will say about motherhood:
Find a tribe. I found mine on Baby Center back in the day, and we are STILL talking every day- but we've moved to Facebook. I cannot emphasize?this enough. Get your squad! Love them hard.
If you have a question, ask. It's ok not to know. Mommin' ain't easy.
You'll get 100,000,000 answers; pick the one that feels right for YOU and your family. Forget the rest.
Feed your baby. Doesn't matter how. Just make sure they eat and you are doing it PERFECTLY.
You might poop on the table. Or in the tub. Or wherever you decide to give birth. It's not that horrific… I hear… ahem…
You thought there was no TMI in running? Bahahahahahaha! That's cute. Motherhood invented that phrase. You'll see.
Ladies, being The Mommy rocks.
It's my favorite thing ever, and I wish you all health and love throughout your mommy careers.
And I might also wish a few more babies on you, fair warning!
More Mom Posts You'll Love
Patty Holliday is a Marvel loving, Disney obsessed wife, and mother of four. She's a travel agent specializing in Disney & Universal vacations- and loves a candid confession. Find her in Virginia (or anywhere frequent flyer miles or her trusty minivan takes her.)